We know the Avalanche are not been the same dominating team that they were pre-lockout. I was curious to compare all teams' league finishing pre/post lockout.
Since I love meaningless statistics and the NHL standings, I wanted to find the difference between NHL teams standings pre and post lockout.
I took the average of a team's finish in the league post lockout subtracted that from the team's average finish prelockout. Teams that were relocated were factored into the post relocation number (i.e. Whaler's standings were averaged with Hurricanes). I defined the prelock period as 1995-200 and post lockout as 2005- last night's standings (as of 4-6-2010). Here are the difference numbers in a table:
And here's the difference numbers graphed: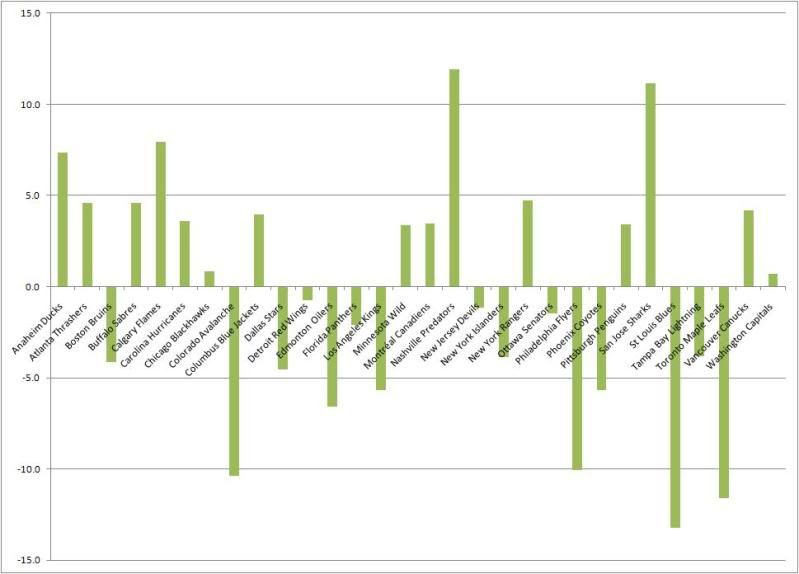 I know this is not 100% accurate. First of all, the number of teams has changed. So a 26th placed team in 95-96 would have been last place, but a 26th placed team post lockout is 4 places from last. So last place teams place higher in the pre-lockout column. I am also not taking into consideration the last few games of this season.
 Things that jumped out at me:
Avs have dropped almost 10.5 places!
The Blues have had the biggest drop(~-13).
Predators have the greatest increase(~+12)
Red Wings have stayed about the same.
1/2 of the Canadian teams have done better (Calgary is a +8, Vancouver +4, Montreal +4) but the other half have fallen (Maple Leafs -12!, Senators -2, Oilers -7)