Step forward y'all to my time window. Cast your view ahead into the mists… forward to a time called the trade deadline where the clouds part and we see… see… see that the standings haven't changed one bit from this morning. Crap. So much for that literary device. OK, let's pretend that today is the trade deadline and the standings are what they are (as of December 20, 2013). Buyers are the teams in positions 1-8 plus a few on the bubble, everyone else is planning their trip to Vegas and looking forward to the draft.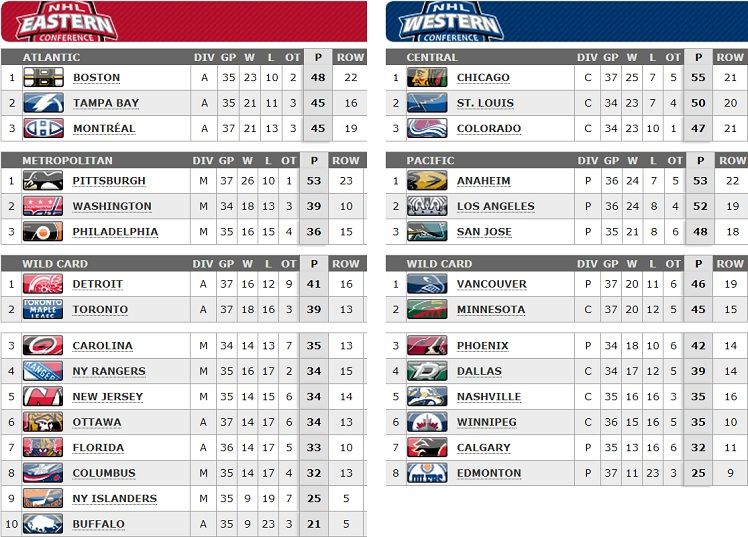 In the West, there's a clear demarcation between the contenders and everyone else. Our targets should be NSH, WPG, CAL, and EDM. Dallas isn't completely out of it just yet. The East is a bit more jumbled. It seems like the entire Metrosexual division is still in the running for 3rd place or the last Wild Card. The odd duck here is the Islanders. They're pretty much out of it. The Atlantic is more settled with only Ottawa on the bubble for the last Wild Card. The sellers in the East will be FLA, NYI, and BUF, and Columbus maybe should start looking for the price stickers.
We all know the Avs need a top-4 defender if they are to have any impact on the playoffs this season. The top pair is more than adequate, and we have a plethora of bottom pairing guys to choose from. It's that middle pair that is causing the Avs pain. Unfortunately middle pairing defensemen cannot be picked up in front of Home Depot or found on Craigslist. They do not stand on street corners in full gear holding a cardboard sign saying, "Will defend for a SPC of 4x$4M, limited NMC, Eastern Conference preferred." They're just not that common, and so teams tend to value them highly. But teams who are not playoff bound may look upon their roster with a different eye. Maybe they see a few contracts that are weighing them down. Maybe they see a couple of players who just don't fit with next year's plan. Maybe they are cheap bastards and want to dump some salary in hopes of breaking even for the year. Their motivation is not important here. What is important is that it's time to go shopping!
I think we can assume that Patrick and Joe are looking for someone who is both physical and mobile, is defensively responsible, and can make good decisions with the puck. Offensive contributions or power play quarterbacking are welcome, but not required. Dmitri Kulikov was grist for the rumor mill the last few weeks. He's young, possibly underperforming, with a lot of upside and another RFA contract. This is probably the kind of defender the Avs covet. They might settle for an older top 3 player on a bad team with a slightly bloated contract but a few miles left on the tires. Hard to say.
With 7 teams and maybe 4 prospects each, it's not too hard to find the best options. I've combined info from ExtraSkater, The Hockey News, and Capgeek. We'll start with the East.
Tom Gilbert – Gilbert plays on the Pathers' first pairing, which means he'd be second pairing on a decent team. His contract is done after this season, and he's looking at a nice raise after being bought out and then picked up for less than $1M/year by Florida. He has decent size (6-1, 204) and mobility, clears the puck from the D-zone well. At 30, he's at the peak of his game, and has 5 or 6 years of good hockey left in him. He's known to have focus issues, but having Adam Foote in your grille might be the solution to that problem.
Dmitri Kulikov – Kukikov was the subject of much speculation about a possible trade with the Avalanche. Kulikov is a youngster at 23 years of age, and has pretty good size (6-1, 205). He plays on the second pair in Florida and is getting a lot of ice time. He is a RFA next year, and his current salary is $2.5M/year. This is a defender with a lot of potential. He's a good skater with good offensive skills, but shows problems with focus in the defensive end. There are also rumors about an exit to the KHL.
Andrew MacDonald – MacDonald deserves a break today. He's a first pairing defender playing alongside Travis Hamonic and making nacho money ($550K/year). He's light (6-0, 185), but defensively responsible, a good skater, and good at clearing the zone although bigger Western Conference forwards might work him over in front of the net. At 27 he's just coming into his own as a defender and could have another decade of strong play. He'll be unrestricted next year, and expect him to make bank.
Henrik Tallinder – He is one example of the older player with some life remaining in his game. Tallinder is 34, with good size (6-4, 209) and decent mobility. He's getting plenty of defensive zone starts and lots of time of the PK. He won't wow anyone on offense, although he does have an accurate shot from the point. He's basically a Jan Hejda shutdown defender who has a couple more years left in his game. He'll be a UFA this offseason and made $3.375M against the cap.
Heading West, we'll start with our Conference rivals.
Kevin Klein – Depending upon the day of the week, opponent, or phase of the moon, Klein can be found on the first, second, or third pairing for the Predators. He sees a lot of defensive starts and plenty of PK time. He has 3 years left on a contract that pays $2.9M/year and at age 29 is near the peak of his game. He's known as a good skater, although his size (6-1, 200) can be a liability against bigger forwards. He's a strong skater and makes good decisions with the puck.
Mattias Ekholm – Ekholm might be one of those guys you can play now, but he's really an investment in the future. At age 23, he's still building on a big frame (6-4, 204). He's getting slightly protected minutes on Nashville's third pair, but with a big shot and good mobility, he projects to a solid 3-4 defender.
Mark Stuart – Everyone wants Bogosian, and with good reason, but there's no way a team that finally figured out that they need to re-tool is going to give up a young player with that combination of size and skill. More likely they'll let go of some older players who are costing money and taking spots from prospects. Stuart is just such a player. He's on WPG's third pair, but doesn't get protected minutes, and plays a lot on the penalty kill. He's described as a good skating defensive defenseman with the puck skills of Scot Hannan. Yes, it might look like he has ferrets in his pants with the puck on his stick. He has decent size (6-2, 213) and at 29, is probably as good as he'll ever be. He'll be a UFA in the coming offseason, and has a current contract that pays $1.7M/year.
Mark Giordano – There's really only one player on the Flames, in any position, that the Avs might actually want. This is him. Giordano anchors the top pairing, has OK size (6-0, 200) but plays stronger. He's a good skater and good all-round defender. At 30 he has a few good years left. His contract has 2 years remaining at $4.02/year. This year he's been the Alexi Gusarov to T.J. Brodie when he goes Ozo.
Jeff Petry – Who do you take from one of the worst, most undisciplined defensive hockey teams in the modern era? Probably no one, but Petry does have some upside. He's been playing on the second pairing, has not been particularly protected, getting lots of D-zone starts and lots of PK time. He has good size (6-3, 200), is a good skater, and is capable of moving the puck. Like his team, he has a reputation for undisciplined defensive play, but how much of that is him and how much is it the environment he's in? With a Foote up his backside, he might be able to turn it around. He's young (26) and will be a RFA next year with a current contract paying $1.75M/year.
So who do we take?
I personally find MacDonald intriguing. How did he get overlooked? Is his success a result of playing alongside Hamonic? I expect him to take his services to the open market this summer, and I think he'll sign with an Eastern Conference team where his size won't be so exposed. I agree with Hopf that the Avs should have gone hard after Gilbert last summer. He would be a great fit, and might still be had. Petry is also interesting, but he would be a project, and I'm not sure that's what you use the trade deadline for. Giordano would be a great pick up, but it's never going to happen.
The guy I think the Avs might go for is Tallinder from Buffalo. He's the steady 3-4 guy the Avs need. He's big, good on the outlet pass, and will provide a steadying influence for one of the younger puck movers. If the Avs can re-sign him to a 2-3 year deal, he will be leaving at just about the time guys like Bigras and Siemens will be reaching maturity in Cleveland. Buffalo will be clearing house on the older players and bigger contracts, so a draft pick might be all it takes.