So I'm sitting here trying to figure out a way to tell you all that doing Goal Anatomies this season will be a real bitch (thanks to the new video viewer on NHL.com) and you should all thank me profusely whenever I provide one.  But I don't want to sound like an over-bearing ass, so I'll try to come up with some witty jokes at the expense of two of the top defensemen on the Hurricane squad.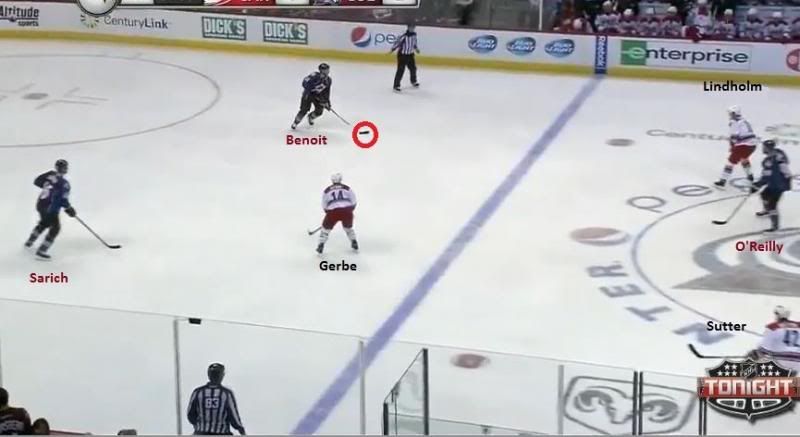 We pick up the action last night in the 2nd period where Andre Benoit has just accepted a pass from his defensive partner, Cory Sarich, behind his own blue line.  Benoit is patient with the puck as he drifts toward the bench side boards as he waits for the forwards (consisting of SLAP FIGHT! + Downie) to get on-side and wheel back for the pass.  Matt Duchene is just off-screen coming out of the offensive zone and Ryan O`Reilly and Sarich are in good position to receive the pass.  Seeing Steve Downie go off for a change after applying the forecheck that led to the long pass that Sarich intercepted, Hurricanes forward Elias Lindholm (#16) also goes for a change.  Alex Tanguay has jumped on for Downie.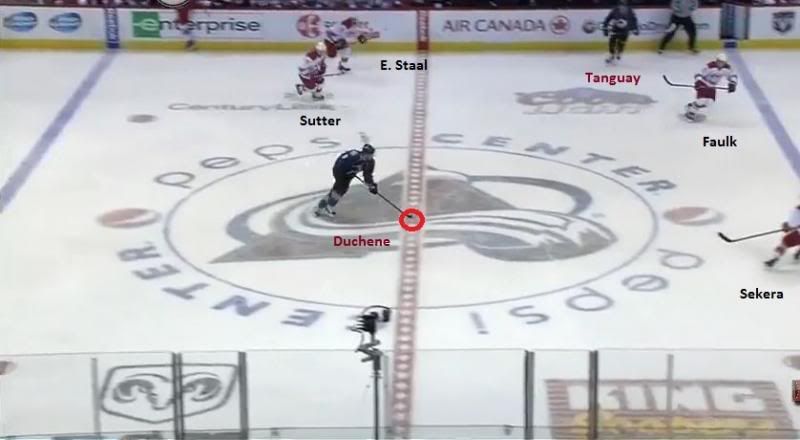 Benoit hits a wheeling Matt Duchene just this side of the redline (everybody wave to Brett Sutter #42 and Nathan Gerbe #14.  We won't see them for a while). Eric Staal (#12) is now on the ice to get a minus.
Duchene then begins to drive toward the middle of the ice as the recently arrived Tanguay makes this a straight up 2-on-2 against Carolina defensemen Justin Faulk (#27) and Andrej Sekera (#4 who it turns out is NOT a refuge from Dragonball). The collective atmosphere behind the defensemen is a veritable vacuum due to an increasingly rampant condition spreading throughout the NHL: Rectus Ducheneiopia.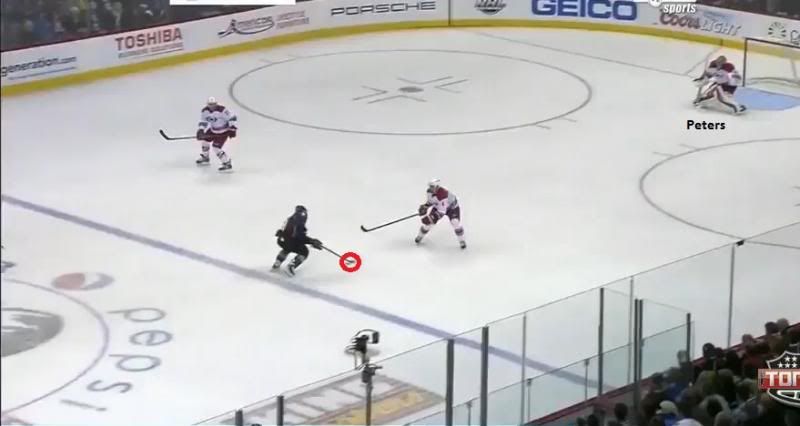 Duchene sells the lane drive (pulling Faulk and Sekera a little more to the middle of the ice)...
...but PSYCH!! He's really going wide you guys.
Duchene uses his mad skillz (also know as his off-hand and ass) to drive to the faceoff dot to the left of Canes de facto netminder Justin Peters.
Perhaps due to some established tendency, everyone is showing Duchene a ton of respect on this play as Faulk, Sekera and Peters all have their back-up horns on blast. Duchene fulfills the prophecy with a psuedo spin, but instead of pyloning Sekera (who is in the perfect position for it, let's be honest)...
... he punks them all with a little of that sweet, sweet, Haliburton, Ontario sauce!!! Although in a decent position to break up the pass, Faulk was apparently caught completely off-guard since he, you know, failed to do just that.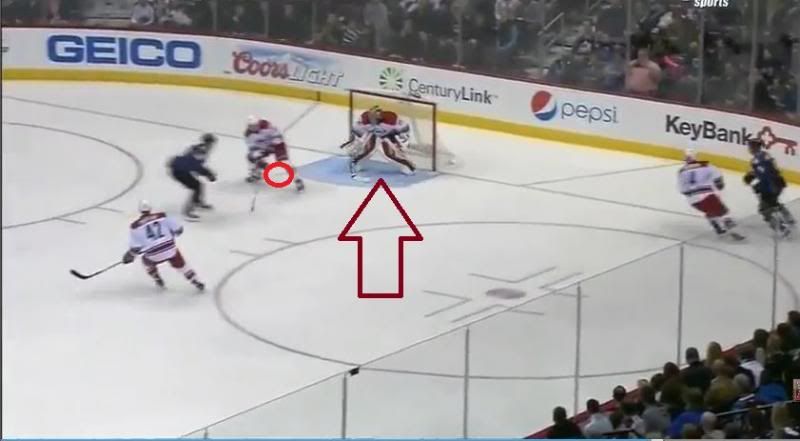 Mr. Quality-Not-Quantity decides that the humiliation for the Hurricanes needs to be master level, so he goes for the rare DOUBLE FIVE HOLE goal!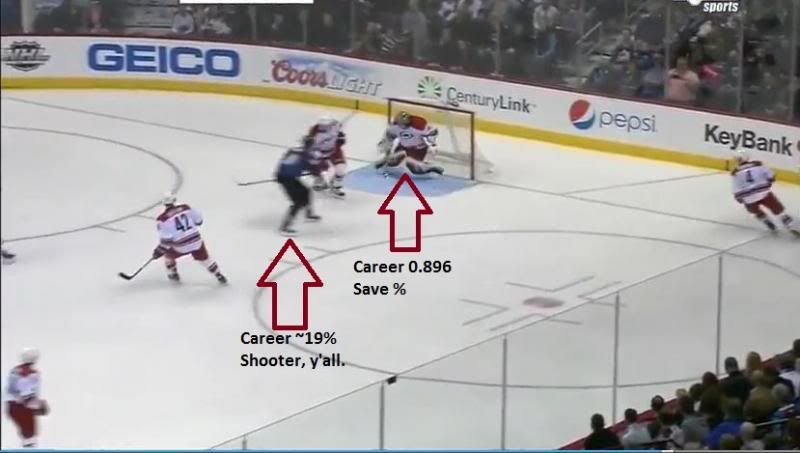 Remember kids, numbers don't lie, but liars use numbers.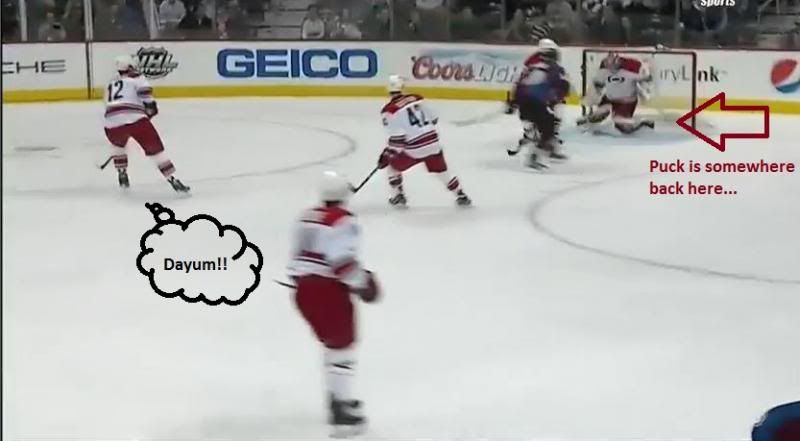 That's a pretty sweet goal as Peters spins through the crease.  The 2-goal lead is re-established, Duchene's dominance is confirmed, and all is right with the world.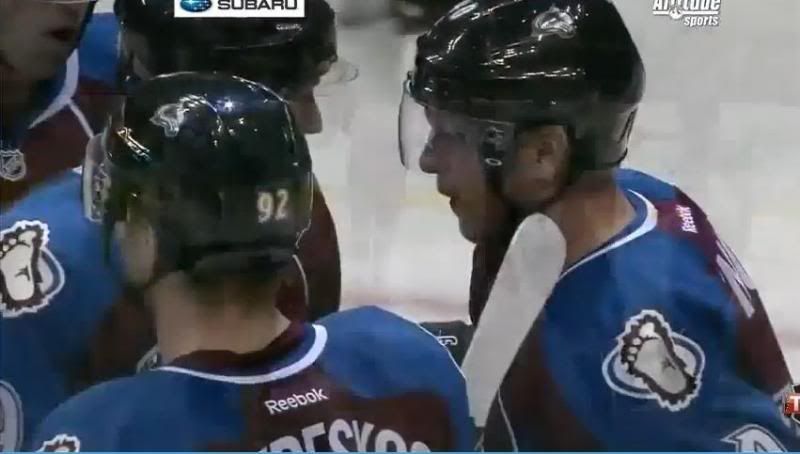 Gabe Landeskog shows true leadership by sneaking into the celebration so that Duchene doesn't have to ignore O'Reilly.